An invitation to celebrate
Open air moments
This haven of greenery, perched on the heights of the estate, is where the Chateau Maravenne hosts your receptions and events.
An avenue lined with cypress and oleanders leads to a plaza with pools and a mediterranean garden with an area by the fountains which can host 300 people (and up to 1000 with a temporary permit). An almost secret garden perfect for your cocktails and wine receptions.
The reception room
Up to 220 people
At nightfall, stroll down the stone tunnel into the large reception room with its imposing and vertiginous arches, reminiscent of the estate's old wine cellar. Bring another dimension to your event in this authentic and inviting area of 400m2 capable of hosting 250 people standing, or 160 seated.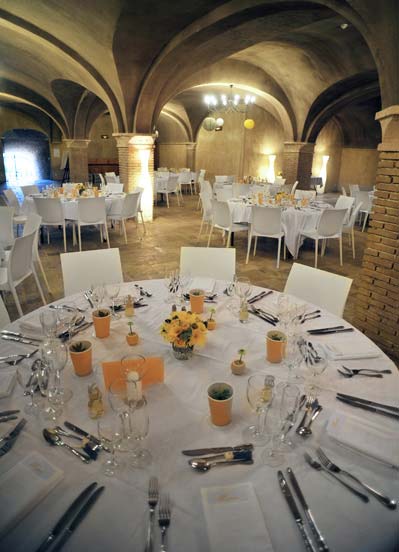 ---
Available for use:
A catering area (professional preparing zone with stainless steel tables, electrical connections, cool rooms, wine cellars), male and female and disabled restrooms, car parks with street lighting (coaches allowed), wine from the estate (no cork fees for champagne).
Catering:
Caterers only (we can recommend on request).
Events:
All types of private occasion : weddings, banquets, birthdays, parties, business seminars...
Book the reception room
Contact us by telephone on +33 494 66 80 20